One-pot meals are the savior of weeknight cooking, and this pasta is one of my go-tos. It's pasta and lentils simmered in crushed tomatoes, finished with lots of chopped kale, saffron, swirls of tahini and chopped almonds. I made a video of how it comes together, but the gist is to simply place most of the ingredients into a big pan or skillet with boiling water, simmer down until the pasta is tender, and plate in shallow bowls with your favorite toppings (I include a list of suggestions). Variations couldn't be easier once you get the hang of the technique. The recipe is included here, and you can also see how I pull it together in the video. As I mention in it, you can easily do a vegan version of this, or use whatever gluten-free pasta you like. I think the reason I always come back to this recipe is because you've got greens, protein from the lentils, and a range of whole healthful ingredients all in one pan. It's a total crowd-pleaser, and leftovers are A+ as well.
Also! A few of you have asked where to find a list of all my videos in one spot. There will always an up-to-date list on this You Tube page. I'm also posting the shorter ones to Instagram. If you subscribe on You Tube, you won't miss any, that's probably the safest bet. In addition to the recipe videos, I'm super excited to post more travel videos. I'm working on one from a trip to (beautiful, sunny!) Tucson, Arizona last week, and a separate video of what I made to take along with me as travel snacks. So, if you subscribe or follow on one of those channels, you'll likely get the heads up. I also link in the 101 Cookbooks newsletter (sign-ups are sprinkled all over)….The videos are far from perfect (especially the ones I'm in laugh/cry), but they're so fun to make, and my hope is that I'll get better at it over the course of the year – 2017 goals! 😉 xx! -h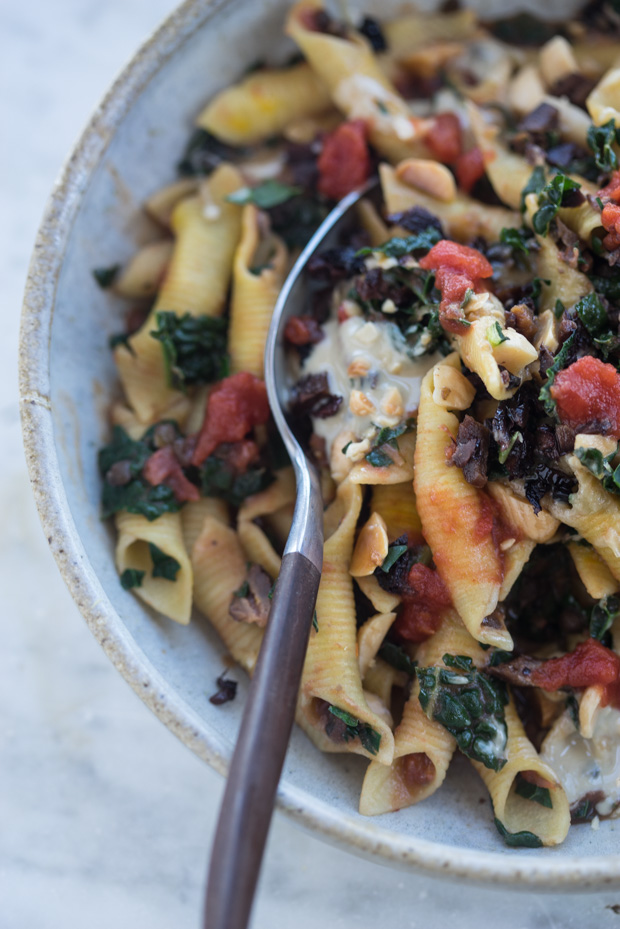 An Excellent, One-pan, Protein-packed Power Pasta
French lentils or black beluga lentils are both great choices here because they retain their shape.
1 pound dried pasta (garganelli is great)
1 pound 14-ounce can crushed tomatoes
2 tablespoons extra virgin olive oil
Zest of two lemons
3 garlic cloves, peeled and smashed
1 teaspoon fine grain sea salt, plus more to taste
1 cup cooked lentils
1 pound kale, de-stemmed and chopped

pinch of saffron and/or other favorite spice blend

to serve: any/ all of the following: tahini, torn basil, lots of Parmesan, olives, toasted almonds, poached egg, basil
Place the pasta, tomatoes, olive oil, lemon zest, garlic, and salt into a large, deep skillet or saucepan. Pour 4 cups of boiling water over the tomato mixture, cover, and bring to a boil. Uncover, and simmer until the pasta is just al dente, depending on the pasta this typically takes 6-10 minutes, stirring regularly. Once the pasta is al dente, stir in the lentils, and then the kale, allowing it to collapse. Finish with the saffron. Allow the pasta to finish cooking, and much of the liquid to be absorbed, another minute or so. Serve topped with any toppings you like in a shallow bowl – dollops of tahini, chopped almonds and olives are pictured here.
Serves 6.
Prep time: 5 min – Cook time: 15 min
Source: 101cookbooks.com